We supply a Loyalty Card to everyone on demand. You can request the Club Card in our stores, or via webshop.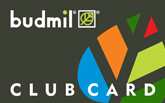 Customers get the discount based on the total purchase volume in the past 3 years.
The discount levels are the following:

Discounts are valid only for products on full price.
You can check Your current Discount level (Log in/Profile menu) >>
Furthermore we offer following discounts them during the year.